Does this really need a caption, guys?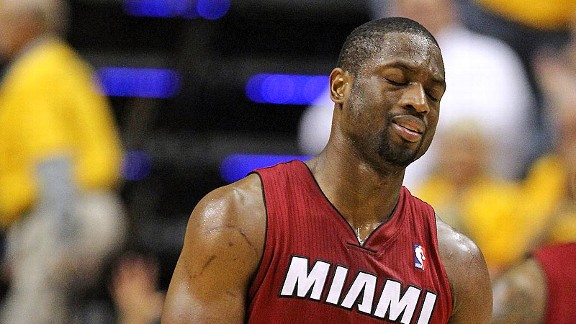 LOOK MA, NO EYES! Wait, why am I clanging the rim!?
So, after two quarters in Indianapolis for Game 3, the series (1-1) and game (43-43) were tied.
Not for long though, thanks to a
17-3 run to start the 3rd
...and Dwyane Wade having little to celebrate after a rather lacktive-sounding 2 of 13 from the field, finishing with not one, not two, not three, but FIVE whole points.
Sweet facepalm. bro.
Sure, D-Wade
reflected on his paltry performance
, but why don't we quote ESPN's Michael Wallace:
Wade missed his first five shots and was held scoreless in the first half for the first time in 95 career playoff games. His first basket came on a jumper with 10:22 left in the third quarter.
Hired talking head, er, "coach" Erik Spoelstra even got to experience
a little bit of Wade's wrath
, in a third quarter argument:
Not only did Wade's frustrations take the Heat out of their offense, as he attempted to fire his way back into his typical box-score prominence, but his failure to get back on defense and (at times) go over the top on Indiana's screens drew Spoelstra's ire.
Not that their third-quarter "conversation" was troubling the Heat coach.
The Association: where South Beach sadness happens!
Labels: 2012 NBA Playoffs, Dwyane Wade, Indiana Pacers, Miami Heat