Mellon Collie and the infinite sadness.
So, guys, if you had predicted that South Beach would've held the aging, fragile C's to only 32 points after halftime...and that Game 4 would come down to a final shot in which Dwyane Wade was covered by Marquis Daniels...and got an open look at the arc...
You wouldn't have expected
this outcome
, would you?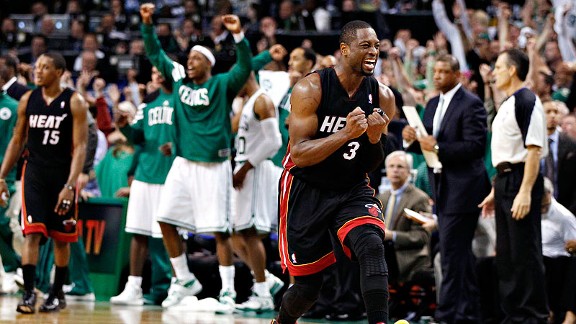 Coming off the heels of Rondo missing one of two free throws (and notice how he never runs across to help Marquis Daniels out!), not long after a Mickael Pietrus rebound sequence which burned about 50 seconds off the clock...against all odds, we have ourselves a new series!
We also have, for the first time, King Crab fouling out in a Miami uniform:
To think, just minutes before, LeBron actually was the reason this game even went to OT.
Doesn't it seem like a lifetime ago that the Threetles were holding their Madison Square Garden matinees? I would also ask, "doesn't Game 2 seem like a lifetime ago," but really, what's different between that and this other than Dwyane failing in the clutch AND this Udonis Haslem head-scratcher to close regulation?
Hey, look who made not one, not two, not three, but zero attempts to shoot in that sequence!!!
Here we are. Conference Finals tied on both halves of the bracket. Tired narratives just waiting to be resurrected pending whoever makes it to the Finals.
And pure class from Boston's assist machine:
THE ASSOCIATION: Where providing bulletin board material to your opponents HAPPENS!!!!
Game Four Lacktion Report
Heat-Celtics: Greg Stiemsma made a cameo appearance in the ocarina of 32 seconds of time for a Mario.
Labels: 2012 NBA Playoffs, Boston Celtics, Dwyane Wade, Eastern Conference Finals, Lebron James, Marquis Daniels, Miami Heat, Rajon Rondo