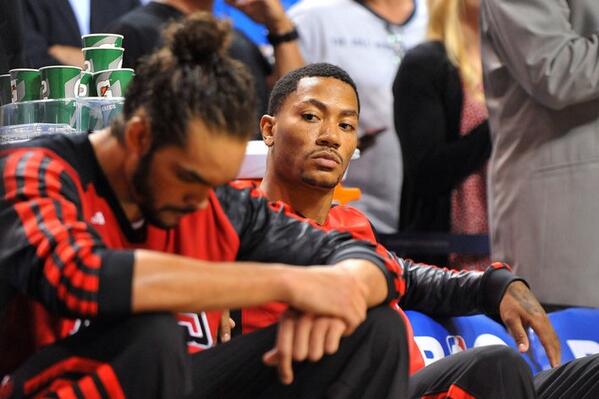 "Shania Twain hates mayonaise all right, and she can't eat chicken salad, that's no joke. We gave it to her once, she threw up in the limo!...Joakim....you listening man?"
No Caption Required
"But but but...I thought Orlando were supposed to be the ones tanking!"
Orlando Magic: A stellar rookie in Victor Oladipo, a solid young core, and a new beginning. All was well with the Magic in the first half as they overcame a slow start to take a 4 point lead at halftime quieting an anxious Pacers crowd.
And then Magic coach Jacque Vaughn gave a rousing halftime speech reminding Orlando that they needed to continue to build where they left off last season.
And did they ever.
Allowing Indiana to come one block shy with a franchise tying 18 blocks and giving up 32 free throw attempts in the process reminded us that the Magic were exactly who we thought they were.
"We were making bets at the half at who could peg the Pacers hands the most when going for a shot" said Affalo.
Indiana used a 21-4 run to blow the game wide open which was made easier by the fact that the veterans of the young Magic team in Aaron Affalo and Jameer "How Am I Still in the League" Nelson combined for 7-27 from the floor...way to set an example fellas.
No Orlando player logged more than 33 minutes.
Coach Vaughn stated "I'm trying to use the Pop rotation of keeping the players fresh through out the season. If they can't be fresh for the playoffs, then at least they can be fresh for the summer."
Ah, I love the sweet sound of ping pong balls in the morning.
Chicago Bulls:
I'm not going to
name names but there were a handful of analysts who had chosen this team to put a roadblock on the Heat's quest for a three peat. Derrick Rose came back (even if NBA Live managed to return before he did), the team had some new pieces (Mike Dunleavy Jr) and looked prime to knock the wind out of Miami's sails.
And they looked good too....for a quarter anyway. Rose was getting to the rim at will, Bosh was being Bosh (missed his first 5 shots, didn't get his first bucket since Game 6 until the end of the 1st quarter) and Wade looked like he should be joining the cast of Grumpy Old Men III.
Rose thought he should take a breather and that's when all hell broke loose. Without a first option on offense, the Bulls managed 6 turnovers in the 2nd quarter (kept passing to a non existent Marco Bellinelli I'm guessing?) and the Heat exploded for a 37 point quarter which was more points than the Bulls managed in the entire half.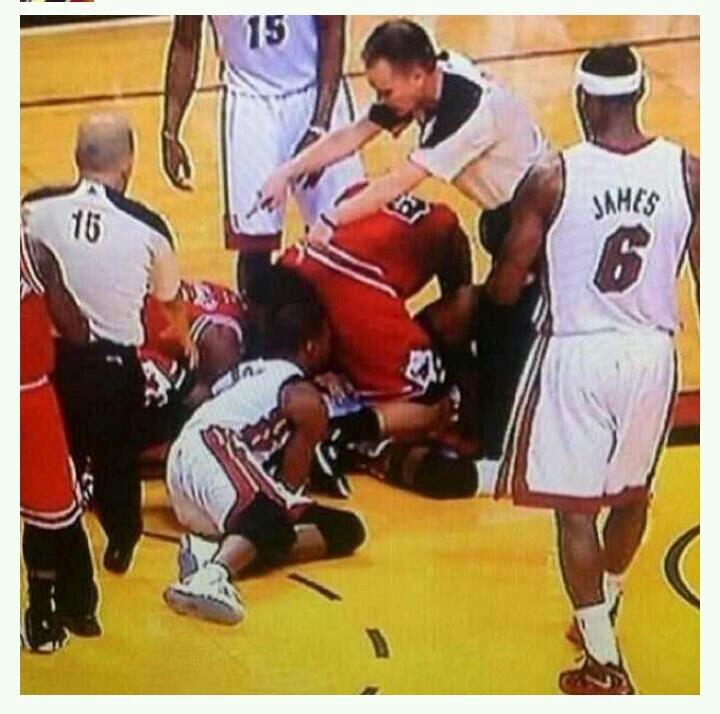 Smell the glove
Now the Bulls did manage to return the favor with a 37 point 4th quarter to make the score respectable so they would be allowed to return to Chicago. This was helped by a 31 point performance from Carlos Boozer (amnesty that) and some of that tenacious defense we are normally acustomed to seeing from the Bulls. But it was all for nothing. It's going to be a long season, but maybe just a little longer for the Bulls.
Bosh waves goodbye to his first five jumpshots
The Clippers: A new coach (Doc Rivers), a revitalized bench with newcomers JJ Reddick and Chris Dudley, and several new sheets of linen to cover up all those Laker championship banners (shout out to Bed Bath and Beyond!) made for high expectations for the 2013/14 season.
Now, if I told you that there would be no Kobe Bryant, that Pau Gasol and the ghost of Steve Nash would be watching from the bench in the fourth quarter you would assume the Lakers would be in for a rough night. I will even raise you a Nick Young performance that would borrow Dick Cheney's shot selection and go off for 3-10 shooting, only to be outdone by the Daniel Day Lewis of the NBA (Wesley Johnson, continuing to fool people into believing he's an NBA player) who went for a blistering 1-11, you would be getting flashbacks of the 2006 Lakers all over again.
Instead, we got flashbacks of the '87 Clippers, who got shell shocked in the fourth quarter that had them recapturing the magic of the Vinny D era by getting outscored in the fourth quarter 41-24.
"Mike [D'Antoni] did a great thing: He didn't bring his starters back in," Rivers said. "There was a point where I was thinking: 'Please bring them back in.'"
But alas, Pringles had one upped the Doc on this night. The Clippers got destroyed on the glass, and had no answer for Professor Xavier Henry (22 points) and allowed 7 players from the Lakers D League to score in double digits.
I mean we had Xavier Henry, Wesley Johnson, Jordan Farmar, Jodie Meeks, and Jordan Hill completely destroy the likes of Chris Paul, Blake Griffin, Deandre Jordan, JJ Reddick, and Jamal Crawford. Deandre Jordan makes more money in half a quarter than the entire Lakers 4th quarter lineup for the season combined.
Oh, and the Lakers are now 5-0 when Kobe misses the season opener. Let that sink in for a second.
"Oh, man, it seemed like it just happened so fast," Paul said. "Those guys executed their game plan, and when you're missing somebody like Kobe, you feed off that energy."
Speaking of Kobe, did anyone else notice how annoyed he looked at the end of the game when the Lakers won handily without him?
"All I know is that their starting five still haven't beaten our starting five" said Rivers to his team after the game.
Looks like the Doc may need to see one himself.